CUPOFIDEASVOICE celebrates the spring – 26th March, 2015
March 8, 2015
Entrepreneurs and future co-founders/business partners meet up for lunch on 26th March 2015 in Paris to celebrate the spring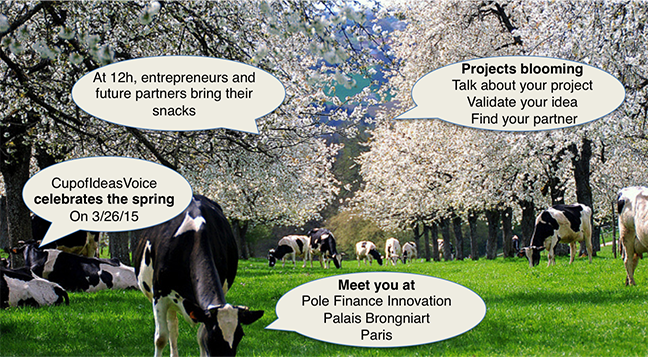 Let's boost your projects
With spring arriving, we hope that many projects will bloom at the picnic for matchmaking between entrepreneurs and those wishing to join a startup !
CUP OF IDEASVOICE provides entrepreneurs with a unique opportunity to conduct insightful conversations to understand whether they feel passionate about the same idea.
 ———————————
Are you a FOUNDER with an ambitious project ?
Are you looking for a co-founder who is engineer, CTO, manager, business developer, CFO ?
Register to present your project to the attendees!
Post your project on the website before the 20th of March to inform IDEASVOICE community.
OR
Are you a future CO-FOUNDER with technical, finance or business skills ?
Are you eager to be committed in a startup ?
Attend our event !
 ———————————
(Twitter hashtag : #cupofideasvoice)
Register to  CUP OF IDEASVOICE 26th March 2015 – PARIS – 15€ (30€ with a "Formule Sandwich")