ABOUT CUP OF IDEASVOICE

The art of presenting and convincing investors and partners can not be improvised.
In addition to the marketplace www.ideasvoice.com, we want to help our entrepreneurs and future cofounders get to know each other by providing them with a chance to meet face to face. "CUPOFIDEASVOICE" events were conceptualized with this very goal in mind. They discover projects with high potential. Everyone brings his/her experiences and opinions. It is also an opportune moment to step back and give new goals for your project.
For those who present their projects, it is a great moment to take the stage and to practice giving an effective, exciting and memorable speech to potential business partners, cofounders, and investors – may be even convince them to join their business venture!
For those who do not plan to pitch, the presentation of other projects and discussions could enable them to capitalize on these experiences to move forward their own projects, to learn how to present themselves and to find partners. For future partners, they can better seize opportunities as far as they improve their understanding of the projects. This moment of discussion is also a time of introspection on his/her search criteria of partner and his/her strengths.
Basic run of show
Welcome
Introduction of each participant  – 20′
Presentation of the projects – 60′ (per project : Pitchs 3' – Questions 10′ – Feedbacks 10')
Conclusion and open discussion
Frequency and 

Place
The events Cup of IDEASVOICE started in Paris. Now, our aim is to expand them and organize these unique moments in other cities regularly.
We are now looking for passionate local organizers around the world to join the CUP OF IDEASVOICE Team.
Learn more how to ORGANIZE A CUP OF IDEASVOICE EVENT
Our last 2 events :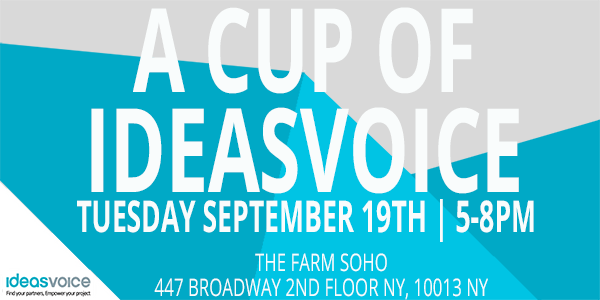 on the 21st  of September 2017 in Paris, France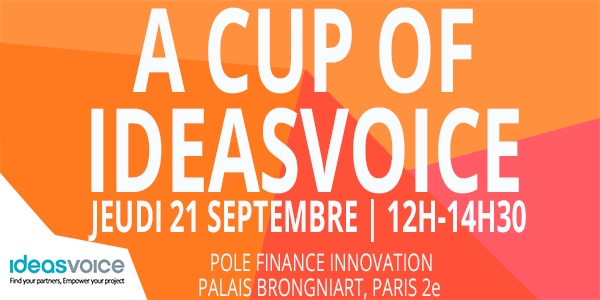 For any further question, write us