Women Entrepreneurs and VCs by Jason Cahill, Carbon Ventures
August 19, 2019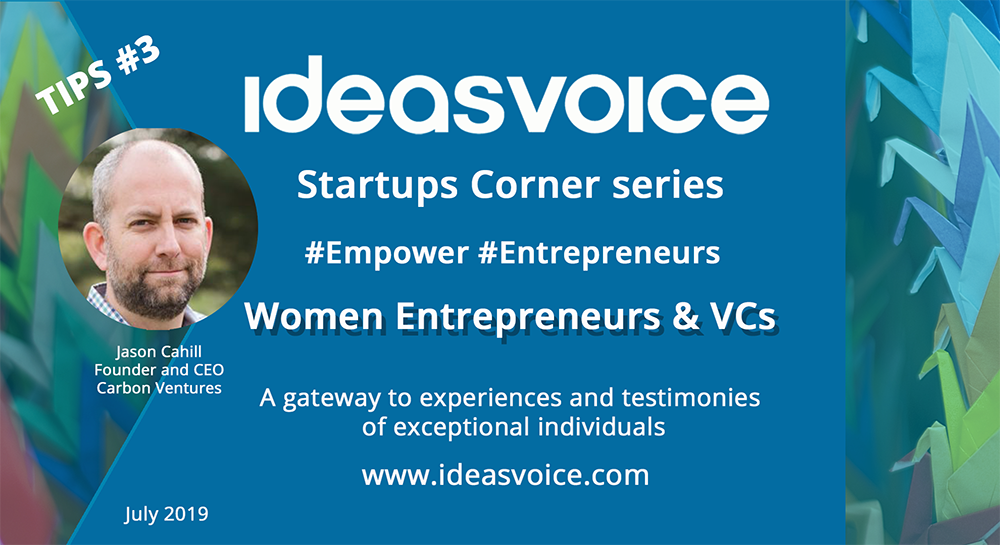 Women entrepreneurs sometimes face unfair treatment as the result of investors' biases. This is why so few women in this space are receiving funding. There are some things now that women entrepreneurs can do to help themselves in this situation.
"If you are a VC fund, you better be looking hard for women"
In this video, we spoke with Jason Cahill, founder and CEO of Carbon Ventures, about the topic of women in the field of entrepreneurship and some of the problems at the moment.
Jason Cahill explains where some of these problems may be stemming from and how people can begin to address these issues.
Why so few women entrepreneurs are receiving funding
While there are individuals who blatantly discriminate against women entrepreneurs, some people may have some more subtle bias.
In general, people have a group of others that they feel most comfortable with. Similar personalities and types of people will tend to attract each other but this can be problematic. If you only surround yourself with one demographic, it's most likely not the product of chance but rather some biases.
Investors who feel comfortable and familiar with men miss out on numerous opportunities because of this. As Cahill explains, Carbon Ventures wants to help people but it is ultimately in the business of making money. He simply wants the best regardless of their gender.
Investors who have bias against women need to branch out and begin to see the opportunity in investing in women.
Advice for women entrepreneurs on how to get more investors
As firms should be doing their due diligence on understanding the companies that pitch to them, women entrepreneurs should also be doing their own due diligence on the VC firms. Look at the firm's portfolio and get a sense of what they are looking for.
Firms and companies aren't always compatible with each other so finding the right fit is important.
Reach out to as many firms as needed to get the name out and increase chances of finding the right investor.
While there are those individuals and perhaps even firms that have bias against women and effectively cut their market in half, there are certainly genuine investors who are eager to invest in promising women entrepreneurs.
According to an article by Fortune, in 2017 female founders got 2% of venture capital. Women entrepreneurs unfortunately face unique challenges.
Jason Cahill points out that partners at firms need to become women so that they can mentor, shadow, and serve as role models for associates who are looking for investments.
Addressing these problems starts with a top-down approach. Changes need to be made at upper levels so that women entrepreneurs can eventually find fair opportunities to work with the right investors.
Discover other entrepreneurs interviews and more tips on our Startups Corner
Follow IdeasVoice Youtube Channel
Join us and find your cofounders
About Jason Cahill and Carbon Ventures
Founder and Managing partner of Carbon Ventures
Carbon Ventures was born in late 2016, during Jason's search for opportunities to invest in early-stage industrial companies when exiting his previous startup. After witnessing a saturation in fintech, marketing, and consumer related investment firms, he decided to branch out on his own – and Carbon Ventures was born.
Related Articles:
https://www.marketwatch.com/story/women-owned-businesses-face-a-lack-of-funding-and-heres-how-to-change-this-2019-03-08
https://www.fundera.com/blog/women-entrepreneurs-arent-getting-funded