Women Entrepreneurs and VCs by Alex Iskold, 2048 Ventures
September 9, 2019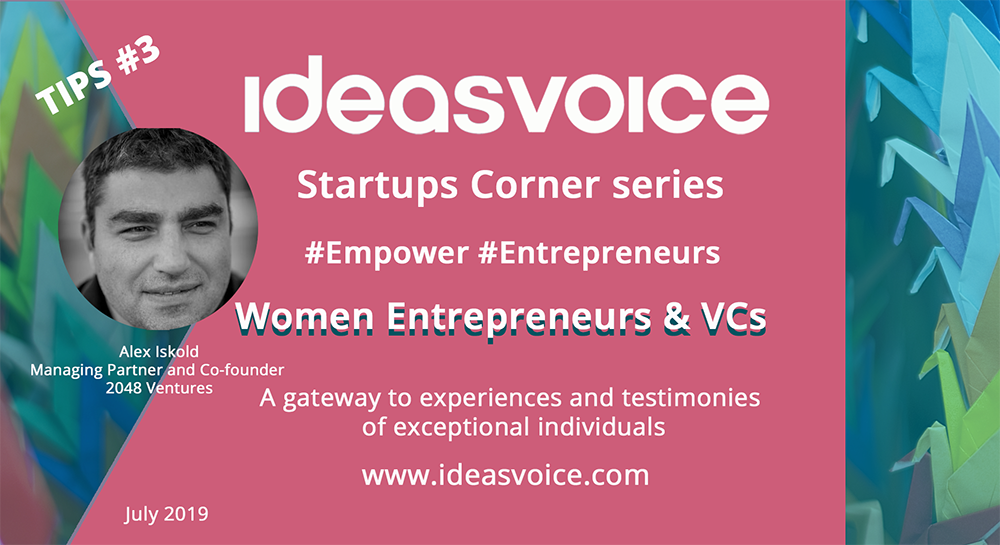 Alex Iskold, Managing Partner at 2048 Ventures, speaks on the disparity between women entrepreneurs and their male counterparts in getting funds by VCs.
"Build the business you want to build and the capital will come", Alex Iskold
Very few Women Entrepreneurs receive funding from VCs
According to an article by Fortune, women entrepreneurs only got 2% of venture capital in 2017. Whether this is the result of the amount of female VC's or bias against women entrepreneurs, this percentage has not drastically increased in more recent years. In this video, Alex Iskold discusses his thoughts on this disparity and provides some insightful advice. Women led companies comprise 40% of 2048 Ventures' portfolio but this isn't always the case in entrepreneurial spaces.
Missing valuable opportunities
When VC's have unreasonable bias against women entrepreneurs, they miss valuable opportunities. When you decide to cut out half of the people who come in to pitch their company, you will in the end make less money. This mentality reduces profits and hurts the entrepreneurial ecosystem.
When investors concern themselves with only funding the most promising, best companies regardless of who is running it, they'll succeed most.
Don't be discouraged and pursue your goal
Women entrepreneurs sometimes face the unfortunate obstacle of dealing with bias when trying to receive funding for their company.
It can be discouraging for women entrepreneurs who feel that they are being unfairly assessed. To that, Iskold explains that getting capital isn't the goal. The goal is to building an amazing business and when you build the business that you want, the capital will come eventually.
Be yourself, and tell you story.
Though some VC's treat women unfairly, Alex Iskold says not to do anything differently from their male counterparts just to receive funding.
Sticking to a vision is more important than compromising it just to raise funds at that point. The sacrifice is not worth it. He doesn't recommend any different strategy for women who want to receive funding. Be yourself, and tell you story. That should be enough to attract the right investor.
About Alex Iskold
Managing Partner and Co-founder of 2048 Ventures
Alex Iskold is a co-founder and Managing Partner at 2048 Ventures. Prior to 2048, Alex spent 5 years at Techstars as the Managing Director of its NYC program, where he invested in and helped over 100 startups. Alex was previously the founder and CEO of Info Lab (acquired by IBM), founder and CEO of GetGlue (backed by USV, RRE, Time Warner), Chief Architect of distributed computing startup DataSynapse, and a software engineer at Goldman Sachs, D.E. Shaw and Thinkmap.
Alex also taught an award-winning undergraduate computer science class at NYU. He holds a B.S. in Math with Honors from Lehigh University and M.S. in Computer Science from NYU. Alex writes one of the top startup blogs called Startup Hacks.