Tips for sniffing out fake investors
March 22, 2019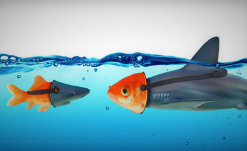 How do you know if a potential investor is legitimate?
A person who claims to be an investor may have a nice profile, work for a VC and even have a LinkedIn account.
However, what if an "investor" contacts you and asks you to reach out to a third party? Enter the big red flag.
Here is an example scenario:
You receive a message from a potential investor:
"I am a Chief Investment Officer, Certified Financial Planner –  (CFP), Chartered Investment Counselor (CIC) and consultant specializing in early stage investment advisors, start-ups, business development analysis.  
I am pleased to tell you I know an accredited angel investor and lender who may be interested in funding your business / project.
I am wondering if this would interest you. Kindly email a copy of your business plan / executive summary to him:
Name: Dr. Aymnot Hooisaiam Email: aymwho@gmail.com
Regards, MG CFP®, CIC®VC Firm, LLC Chief Investment Office"
It can be exciting to receive a potential investment email, but don't let it cloud your judgement.
It is easy, if you are careful, to spot a fake. The above example was sent to an entrepreneur in a real scam attempt. Scammers are good at disguising themselves with seemingly real information. However, you can outsmart them.
Here are some tips to help you avoid the pitfalls of fake investors:

Tip 1 – Identify the company.
Ask the individual for their professional email, a phone number and references.
If instructed to contact a third party, ask why they are not dealing with you directly. The key here is ask!

Tip 2 – Identify the person.
Do a little research on the third-party individual you've been asked to contact.
If the email provided is not an official company email, there is a good chance that this person is a scam artist.

Tip 3 – Find out if stolen identity is involved.
If this individual is stealing someone else's identity, they won't be able to verify information.
Ask for a professional email, a phone number and references. You can even ask questions specific to their job or position.

Tip 4 –

Determine if the person is demanding money
A money offer can quickly morph into a money demand right before your eyes.
For example, they may offer you $100,000.00 as an investment. But first, they want to see your business plan. After they receive it, another request may follow asking you to deposit or wire $10,000.00 to a bank account to move forward.
If an investor is asking for money from you, something is wrong.
Tip 5- Use verified users on IdeasVoice.
IdeasVoice can help you avoid scams and other unscrupulous situations through ID verification. This service is available to all members.
For a fee of $25 we do the research and verify the identity of our members. This is another service IdeasVoice provides that gives peace of mind to both investors and entrepreneurs.
To complete this step, click on "GET MY ID VERIFIED" on your profile page or you can follow this link: https://www.ideasvoice.com/fr/profile/verification