Startups Corner #8 – How to work with founders from different backgrounds with Jorge Rios from Bridgefy
August 12, 2015
Jorge shares his experience of how founders from different backgrounds work in his startup Bridgefy
Jorge Rios, Co-founder of Bridgefy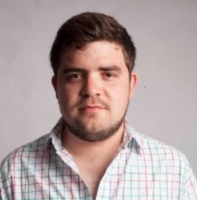 Brigdefy looks no different from other regular messaging apps, but it would be very useful when your cellphone has no Internet, wifi, or bad signal connections. Without using any satellite, SMS connections, or wifi route, you can send message to your friends via Bridgefy within 230 feet / 70 meters. The emergent of Bridgefy might change the ecosystem of chatting apps, making messaging more possible and easy to people who don't have access to Internet or who encounter circumstances that Internet services doesn't work, such as crowded concerts or natural disasters that nothing works.
Since you are the only person responsible for the business part in the team, how do you work with founders from different backgrounds?
The first thing you need to do is to have your sections really divided so everyone can focus on what they need to do with knowing others are doing and different parts of the company at the same time. Understanding what other team members are doing is really vital because things won't work out if product development part cannot connect and integrate with business part. Thus, everybody can work towards the same goal with their distinct but indispensable professions.
Thanks Jorge for giving tips to work with founders from different backgrounds in your startup with the IdeasVoice community!
Startups Corner #8 – how to work with founders from different backgrounds in a startup with Jorge, Bridgefy Cofounder from IdeasVoice on Vimeo.
For more tips and experiences shared by passionate entrepreneurs, follow our Startups Corner series