IdeasVoice Staff Pick : projects we love
June 26, 2015
IDEASVOICE is launching Staff Pick to share with you a project we love each month.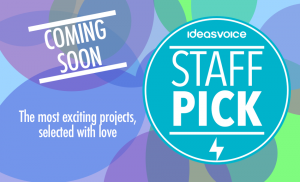 We believe ideas can change the world. Our community aims at providing you with your future partners, in order to boost projects that may change your life for the next few years.
Projects posted on IdeasVoice come from very different backgrounds and embody the diversity we want to foster: medical innovation, new social networks, energy, e-commerce,… We are glad and honoured to welcome such a range of diverse and promising projects, and we want to highlight the greatest ideas born on our platform.
Each month, a project will be chosen by IdeasVoice staff and shared on our blog (in the new "Staff Pick section) and social networks. Entrepreneurs gain visibility and support from the IdeasVoice community, and future partners find dynamic projects in which to engage faster.
We are very happy to launch these new contents that perfectly describe IdeasVoice's DNA : fostering innovation and entrepreneurship and helping you make your projects come true.
If you see a nice project that IdeasVoice should talk about, write us now at com@ideasvoice.com !