Tips about the Founding Team by Jason Cahill, Carbon Ventures
August 12, 2019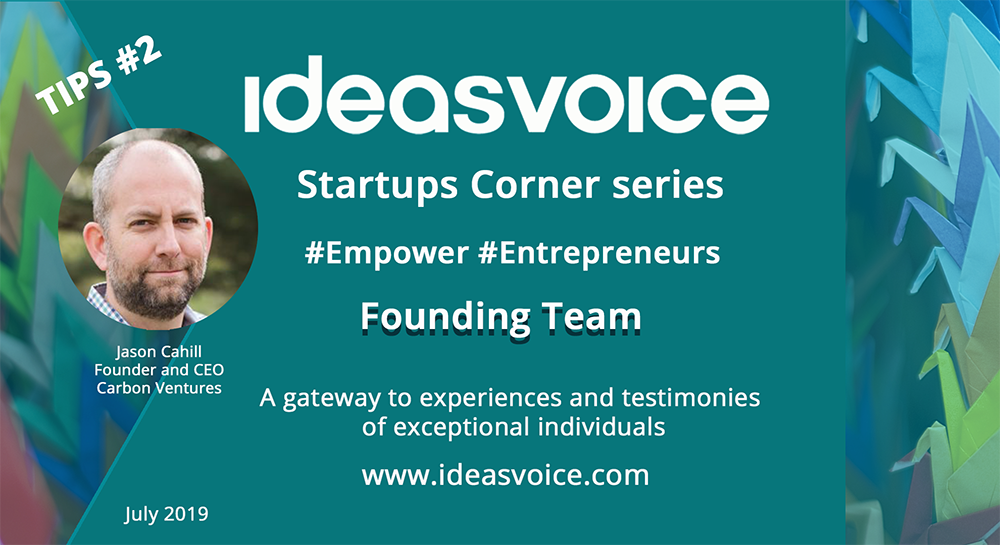 We discuss about the founding team with Jason Cahill, founder and CEO of Carbon Ventures
"You can mess up the product but you need to nail the team"
In this video, we spoke with Jason Cahill, founder and CEO of Carbon Ventures,  about the importance of a strong founding team and how having a cofounder can be extremely helpful. We also touch on how founders can optimize company efficiency by recruiting the right cofounders.
Why having cofounders when trying to raise money is important
Out of the product, solution, market, and team, team is the most important aspect of a company.
If there is something wrong with product or anything else, a strong team can figure out what is not working.
On the other side, if the product, solution, and market strategy is strong while the team is weak, things will collapse when a new problem emerges.
When trying to raise money, the operation needs to be running smoothly.
A dysfunctional company can't attract any investors. Furthermore, the team should have real experience with the industry. Investors want to see that the founding team is knowledgeable and can tackle any obstacles that may present themselves. Learning about the industry in a classroom setting is drastically different from being hands on within the industry and learning from practice.
Why founders shouldn't be afraid of having cofounders
People tend to be great only at a couple things. Everyone has their own strengths and weaknesses. An effective team will play off of each other's capabilities and find where they fit best in the large picture of the company.
A founder not trying to handle everything on their own will allow for specialization and specialization is key for efficiency. This prevents any internal redundancy as well which is a waste of valuable resources. However, fully understanding everyone's capabilities can be difficult so this is why it is preferable to work with people that you have worked with in the past.
The criteria for a strong founding team
In order to build a strong founding team, the founder needs to first identify the key skill sets that are essential.
Who are the people that you will anticipate needing now and as the company grows? Answering this is necessary so that overlapping is avoided. Hire based on the company needs that you've identified.
While every company will vary in its needs, a strong founding team will at least require someone who can establish the market and who can appeal to it and someone who understands the product deeply.
In the beginning, people will more likely than not be dealing with broader job functions. But as the company grows, employees can become more specialized.
Everyone needs help whether they acknowledge it or not. While some founders may find themselves being able to manage without cofounders, their operation would be moving along much more quickly if they were to find help in the form of cofounders. Cofounders bring unique abilities to the table that were not present before. Diversifying the founding team is essential because team diversity reduces redundancy and optimizes specialization.
Discover other entrepreneurs interviews and more tips on our Startups Corner
Follow IdeasVoice Youtube Channel
Join us and find your cofounders
About Jason Cahill
Founder and Managing partner of Carbon Ventures
Carbon Ventures was born in late 2016, during Jason's search for opportunities to invest in early-stage industrial companies when exiting his previous startup. After witnessing a saturation in fintech, marketing, and consumer related investment firms, he decided to branch out on his own – and Carbon Ventures was born.