Tips about the Founding Team by Alex Iskold, 2048 Ventures
September 16, 2019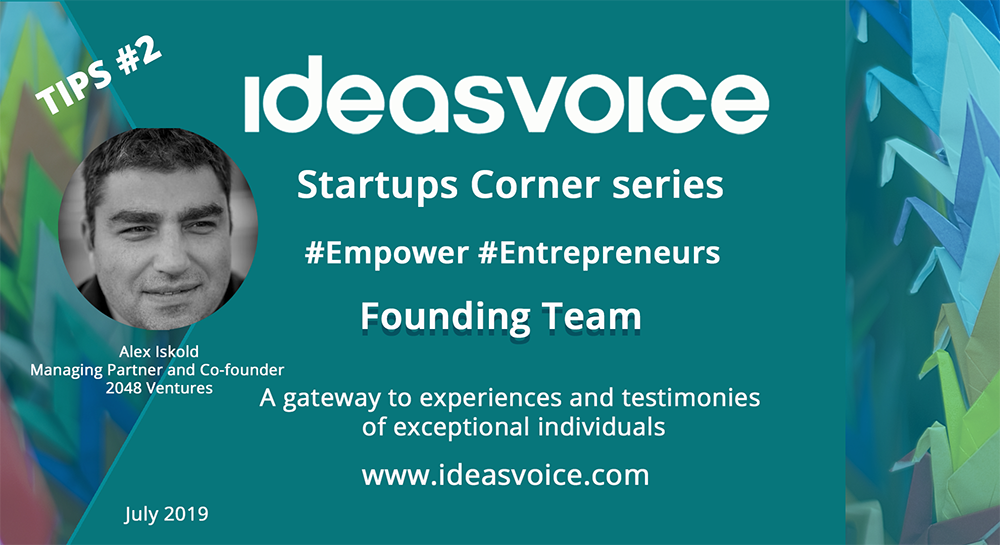 In this video, we discuss the founding team and how important it is for investors to see a dynamic founding team that is diverse and well-staffed with Alex Iskold
.
"You want to find people who compliment your skills so that you can grow the company faster", Alex Iskold
Alex believes that cofounders can be helpful for building a company as quickly as possible. They certainly bring a lot to the table but finding the right people takes priority over simply hiring as many people as possible.
However, finding compatible cofounders isn't always easy but this video will help entrepreneurs recruit individuals who will benefit the business most.
The importance of cofounders when trying to raise money
Having cofounders on the team is extremely advantageous not only because of the diverse set of skills and experiences that they bring to the table but because of the unique perspectives each of them have.
Being able to look at a problem from different angles will always be a useful asset.
Having all of these benefits that come with having cofounders is convincing for investors who see that the company is well manned and equipped with the necessary tools.
They want to see cofounders who have complimentary skills. Complimentary cofounders can execute tasks more efficiently.
Streamlining everything will obviously boost productivity.
Finding what team, you as a founder need for success will be instrumental for convincing investors that the company is ready to receive funding.
Why founders shouldn't be afraid of having cofounders
Productive collaboration
Some individuals may be inclined to believe that they can't work with others. But the very nature of living in this world is a collaborative effort. People are constantly having to deal with others and find the best way to cultivate productive relationships.
Whether you prefer to work alone or not, you are more than capable of working with others. Founders need to recognize that they need help with operations.
One pair of hands can't build a successful company but an entire network of people who have the common goal of building up the company can.
Complementary skills
Finding others, such as cofounders, who can help the business is better than running the entire company by yourself while having one hundred percent ownership. Relinquishing equity in return for people who can bring invaluable skills to the company is well worth in the investment.
Right people
There is a balance however as the term, "more is better" isn't always applicable. While it is better to have a smaller stake in a promising company than a full stake in a less promising one, it is also better to work alone than it is to work with the wrong people.
Make sure that cofounders are compatible and aligned with the company mission.
The criteria for a strong founding team
Understands the business
Alex Iskold says that for any strong team, at least one person should have very strong founder-market fit. Having someone who deeply understands the business is a must when building a founding team.
Work Experience
Additionally, ensuring that everyone has past work experience with each other is something to seek. It takes time to get to understand others' work patterns, tendencies, and tactics.
Aligned Vision
The early stages of a company set a tone so making sure that everything goes as smoothly as possible will prevent any crippling dilemmas.
Specialized
Even the most talented people who are jacks of all trades need help. Bringing in cofounders who are exceptional at one thing will allow for specialization. Specialization is the key to optimization of productivity.
——–
For some, it may be difficult to acknowledge their need for help but ultimately, help is best for the business. The growth of your company should be more important than anything else.
Before going in too deeply into the business, take the time to find cofounders who want to make the most of their skillsets. It will benefit everybody.
About Alex Iskold
Managing Partner and Co-founder of 2048 Ventures
Alex Iskold is a co-founder and Managing Partner at 2048 Ventures. Prior to 2048, Alex spent 5 years at Techstars as the Managing Director of its NYC program, where he invested in and helped over 100 startups. Alex was previously the founder and CEO of Info Lab (acquired by IBM), founder and CEO of GetGlue (backed by USV, RRE, Time Warner), Chief Architect of distributed computing startup DataSynapse, and a software engineer at Goldman Sachs, D.E. Shaw and Thinkmap.
Alex also taught an award-winning undergraduate computer science class at NYU. He holds a B.S. in Math with Honors from Lehigh University and M.S. in Computer Science from NYU. Alex writes one of the top startup blogs called Startup Hacks.