FOUNDER'S PARTY at Le Camping : The place to be
December 20, 2012
FOUNDER'S PARTY at Le Camping : pitch your project and find your cofounder on the 9th of January 2013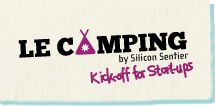 IDEASVOCIE co-organizes with Le Camping a « Founder's Party » to meet « founders » et discover potential business partners or cofounders.
The party takes place at Le Camping, Palais Brongniart (place de La Bourse), Paris from 7 pm on the 9th of January 2013.
Each founder has one minute to pitch his/her startup. Then future cofounders presents themselves during one minute too. The party will continue by a cocktail and discussions.
More than 150 people will be here to discover opportunities of finding a cofounder or a startup at the  Founder's Party.