CAP DIGITAL partners with IDEASVOICE
December 10, 2011
CAP DIGITAL partners with IDEASVOICE to offer more services to their startups for building their teams.
At the event  "rencontres de CAP DIGITAL", December 6, 2011, Patricia Egard, founder of IDEASVOICE, introduces the partnership and the benefits to members of the cluster CAP DIGITAL.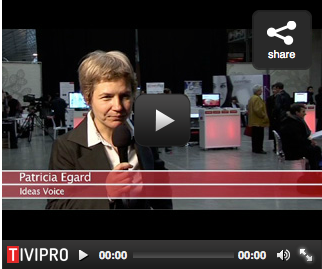 CAP DIGITAL provides startups a new service to help them have the dream team of the executive team to succeed their venture. For projects whose founders are engineers and technical people, they have a new service available for finding the right business partner and cofounder with complementary skills in Marketing, Sales, Business Development… and this, in order that entrepreneurs put the odds on their side in their first round with investors.
Cap Digital was created as a result of a public policy for the development of economic sectors with strong growth potential located in the same geographical area. Since 2009, the cluster has been implementing the Paris Region's strategy for digital content and services, supporting innovative SMEs in this field.