ORGANISER UN CUP OF IDEASVOICE
CUP OF IDEASVOICE Mission
In addition to the global meeting place for entrepreneurs, www.ideasvoice.com, we organize events CUP OF IDEASVOICE where our entrepreneurs, future partners and investors can meet each other during 2-3 hours. Everyone bring their experiences and opinions. It is also an uncommon moment to step back and define new goals for their projects, to show off and to train themselves for delivering an effective, exciting and memorable presentation to convince their future business partners, co-founders and investors to join them in the venture.
The projects are from seed-stage ideas owner and early-stage startups or companies. All events are open to the public. To encourage constructive discussions, CUP OF IDEASVOICE is a human-sized event with 50 participants maximum. CUP OF IDEASVOICE event funds cannot be used to for personal financial gain.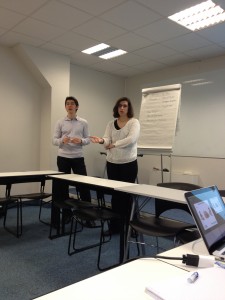 Become a CUP OF IDEASVOICE Organizer
We are now looking for passionate local organizers around the world to join the CUP OF IDEASVOICE Team.
All CUP OF IDEASVOICE Organizers are individuals. You cannot organize a CUP OF IDEASVOICE event without approval from IDEASVOICE core team.
CUP OF IDEASVOICE Organizers are expected to be living within (or close by) the entrepreneurs community in which they plan to organize.
CUP OF IDEASVOICE events must be organized by a team. Ideally, one lead organizer and one or two other members of the team.
Just like any project, forming a strong organizing team is the most important part of planning a CUP OF IDEASVOICE event. Beside complementary skills and diverse backgrounds and connections, it is important that everyone on the team is enthusiastic about the mission of CUP OF IDEASVOICE.
Try to have at least one member who is closely connected to the local tech (developer and designer) community in your organizing team. This is a way to maintaining good attendee balance.
Application
Become a thought leader and connector for your local startup community
Help connect entrepreneurs, business partners, cofounders, investors and leveraging our global network
Participate in CUP OF IDEASVOICE team around the globe
Your application will be reviewed. You will receive more details about the organization rules and requirements (the event, the team, budgeting, marketing and promotion, finance, sponsorships….). Then, we discuss them with you in order to make Cup of IDEASVOICE in your city a success!